ORDERS SHIPPED TUESDAYS & FRIDAYS
FREE UK STANDARD SHIPPING ON ORDERS OVER £30
Valentine's Jewellery Collection - Our Top 5
Posted on February 05 2022, By: Kelly and Zoey Allen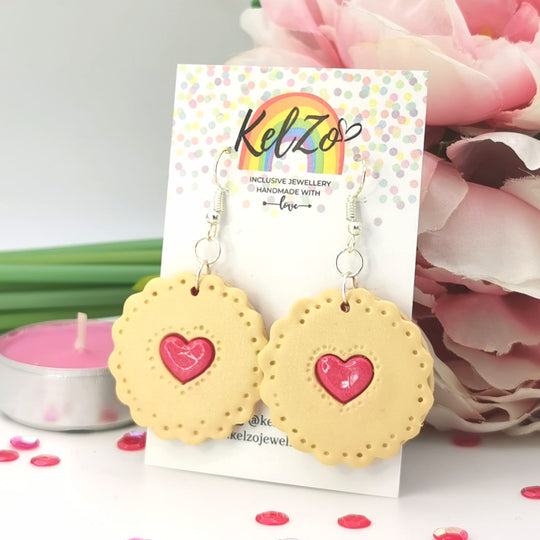 Well, we are not lying when we say we have had the best launch ever this year. You'd think nothing could beat Christmas, but you lovely lot blew us away with your Valentine's purchases, and we are oh-so grateful!
We went into making the collection during a very turbulent time, from moving studios to attempting a work/life balance (what is that when you're self employed?!), and we really doubted we could make a small collection, let alone what we eventually created!
It was a joy to create the Valentine's jewellery, and the response on launch day was just amazing.
So we thought we'd pop together our top 5 Valentine's Jewellery Items...
1. Jammie Biscuit Earrings
We ended up selling out of our Jammy Biscuits on day one, so we cheekily made some more. Aren't they just delightful?! And they look pretty edible too, but please don't eat them, haha! 
2. Boobie Earrings
We love adding the odd boobie earring to our shop, and these red, pink and black boobies are just gorgeous! 
3. Pale Pink Heart Faces
We adore these pretty pink heart faces, they are just so delicate and pretty. We love adding to our faces collection, and this one is pretty special...
4. Rainbow Pride Heart Drops
We adore this addition to our Pride range, it's so cute and very in-keeping with both our Pride range and Valentine's. Our new rainbow hearts are sure to win your hearts...
5. Love Letters Earrings
What's more romantic than love letters?! Love letter earrings, of course! We think these are incredibly cute, don't you?
So there you have it, our top 5 Valentine's Collection items. Do you agree with us, or do you have your own favourites?!
Let us know!
Love Kelly & Zoey xxxx