ORDERS SHIPPED TUESDAYS & FRIDAYS
FREE UK STANDARD SHIPPING ON ORDERS OVER £30
KelZo LGBTQ+ Rainbow Pride Jewellery - Our Story
Posted on April 08 2022, By: Kelly and Zoey Allen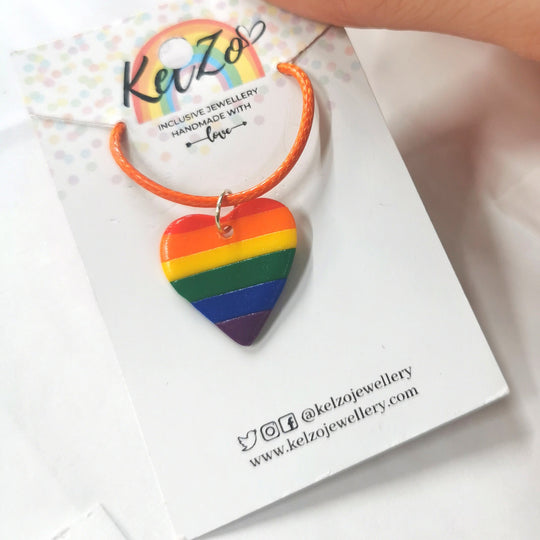 We thought it would be nice to talk about the story of our Pride Jewellery Collection, from how it began to where we are now. We've come such a long way, it's so nice to look back and remind ourselves of how far we've come.
KelZo LGBTQ+ Rainbow Pride Jewellery - Our Story
When we first began our KelZo Jewellery adventure, our LGBTQ Pride Jewellery Collection was modest, but loved by all. Our hearts were warmed by this, and it created not only a Pride Collection to be truly proud of, but it also created what we now call our KelZo Pride Family. 
Furthermore, it created a space where we could give back by donating 10% of all Pride profits to LGBTQ+ charities. This is such an honour to be able to support such amazing LGBTQ+ charities and the work they do for LGBTQ+ people. 
In the early days, we created a small collection of heart shaped pride jewellery. Sat at our dining table, Zoey would create strips of rainbows, lovingly rolling them out and cut them into beautiful heart shapes. We'd bake them in our oven, sand them, and varnish them.
Once dry, they'd be drilled and turned into necklaces and earrings, some weren't drilled at all so we could make badges and studs. These items went on to become part of our core pride jewellery collection, and they hold a very special place in our little queer hearts. 
The following year we introduced our Disco Pride items (due to make a return this year!). This included layered rainbow lightning bolts and trapeze coloured hearts. These LGBTQ+ rainbow inspired jewellery items were received well, and we sold out of the entire disco range. 
In the same year, we extended our Pride flag jewellery range, to include many more flags. These include:
Plus many more, which our full pride jewellery range showcases. 
This year we have even more surprises in store, including more layered pieces, pride cake slices, our incognito range, and so much more. 
Checkout our Instagram account to keep up to date with our progress, and sign up to our newsletter for early bird access to EVERYTHING!
We are incredibly proud of our rainbow jewellery, it gives us joy to see you all so happy wearing your KelZo jewellery with pride for who YOU are.
Remember, you are unique and beautiful, and you are a part of our little Pride Family, without judgement or fear. We are always here for you if you want to have a little chat about anything or request a special custom order. Just email us or contact us via Instagram. 
We can't wait to get to know you even more during 2022 and beyond!
Love Kelly & Zoey xxxx