ORDERS SHIPPED TUESDAYS & FRIDAYS
FREE UK STANDARD SHIPPING ON ORDERS OVER £30
Valentine's Collection 2023
Posted on February 09 2023, By: Zoey Allen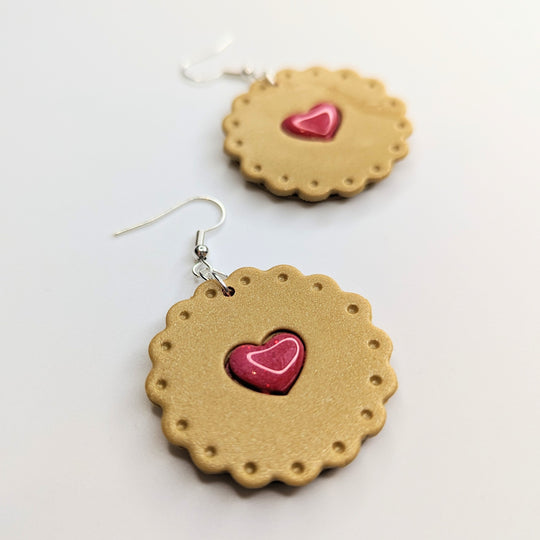 Our Valentine's Collection has been hand made with love.
Whether it's a treat for yourself, a loved one or a potential loved one, here you can find some beautiful pieces for valentine's and beyond.  
This Valentine's Day we are bringing you delicious treats, heartfelt letters, and all the sparkles.  You can choose from a range of adorable, fun, and super stylish pieces for yourself or a special someone. Who needs pricey diamonds when you can get all the sparkles without the high price tag. 
Take a look at our top picks to give your special someone this Valentine's Day or give yourself that super cute gift you know you deserve!
Something Sweet 
Fancy something sweet this Valentine's? 
Sweet and super cute, these jammie biscuits look good enough to eat, although it's probably best not to eat them. 
These earrings are the perfect gift to hit the spot for the one who craves the sweeter things in life. We've got a sweet feeling about these earrings, no matter who they are for they are bound to go down a treat. 
We all love a jammie biscuit after all… 
A Letter from The Heart 
If they can't find the right words to say, a sparkly love letter will do!
A photo can say a thousand words but so can a sparkly gift. 
They say a letter from the heart is the best way to tell someone you love them. So, why not let your special someone wear your heart every day. We love a classic love letter on Valentine's Day, and this is the gift that keeps on giving. 
This is our love letter from us to you. 
A Perfect Pair
Give your better half the other half!
The moon and stars light up the sky, show your special someone the way they light up your life. 
The night sky wouldn't feel complete without both the moon and the stars, just like you wouldn't feel complete without your special someone. 
Sexy And Non-Alcoholic 
Anyone for a glass of red wine? 
Sexy and non-alcoholic, these are some seriously hot stars! 
Who needs a little black dress to feel sexy when you have hot red stars. 
Valentine's day is all about red and these earrings boast a statement of love and independence. Whether they are for a special someone or a treat for yourself, these earrings are a fierce choice. 
Floating on Clouds 
Forget butterflies, we prefer to float on the clouds! 
You know you like someone when they give you butterflies, but when you feel like you are floating on clouds, that's love! 
These earrings are a dream in a box, adding something soft and sparkly to your everyday look. Fluffy never looked so sweet. 
Packaged With Love 
Packaged with love and a little something extra. 
We package all of your orders with love and care. Decorated with tissue paper and a little gift (surprise it's a tealight), you will even receive a little postcard from us!