ORDERS SHIPPED TUESDAYS & FRIDAYS
FREE UK STANDARD SHIPPING ON ORDERS OVER £30
Welcome to the KelZo Jewellery Blog!
Posted on November 23 2021, By: Kelly and Zoey Allen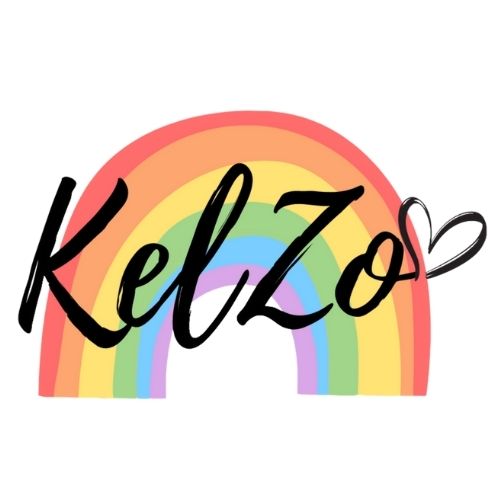 Hello beautiful human!
We thought it was about time to start a blog! We want to keep you in the loop of all we do, offer 'how-to's, and more!
When we started KelZo in 2020, we never thought it would become our full time job, our passion and our livelihood. We never imagined we'd grow a beautiful community (online and in real life) and feel part of the small business community in Cardiff and beyond.
It's funny looking back to see how far we've come, in both our business minds and our product.
Check out the difference between products made in 2020 compared to 2021...
Fire star drops from one of our early launches in 2020:
Ombre baubles from this year's Christmas Collection:
Hopefully you can see the progress?!
Small Business Learning Curves
We've had a very steep learning curve throughout, especially since Zoey quit the 9-5 in June this year. Of course, that was the month our sales plummeted - it's just the way it goes, I guess!
We're mostly online, so that's been another challenge along the way, especially when the shops opened again. We certainly don't want to deter people from the high street where our small biz pals are, but it can be worrying when the sales dip because people want to buy things in real life.
We've made mistakes, lost money, had big plans fall through, felt disappointed and concerned we might not make it through another month. But then we speak to you or hear from you, or we receive an order or a review, and it means the WORLD to us! It keeps us going, and helps us focus on creating more signature pieces for our little biz. 
In Person Events
We've been testing out markets and finding our feet, and realising central city locations are where it's at for us. We don't do particularly well at garden centres, can't think why haha!
It's so great meeting people who want to see us in real life and see our jewellery in real life too. It's still a shock when someone compliments our work or purchases from us. We're still having to pinch ourselves, and we hope to continue to make it to in person events so we can keep meeting you all!
KelZo Blog Plans
So I think this blog will probably focus on a few areas of our business, including:
Setting up a small biz from scratch
Finding your niche and people 
Market tips and tricks
Highs and lows of business life
Cheeky discounts
Design insights
If there's anything else you'd like to see, let us know! We are excited to share more of us with you, and we reckon writing a little blog is the best way to do it. 
Don't forget, if you want our blogs or special offers before anyone else, sign up to our newsletter! You can sign up by using the form at the bottom of this page, and you'll get 15% off your first/next order!
As always, thank you for believing in us :)
Love Kelly & Zoey x