ORDERS SHIPPED TUESDAYS & FRIDAYS
FREE UK STANDARD SHIPPING ON ORDERS OVER £30
Spring Collection 2023
Posted on February 27 2023, By: Zoey Allen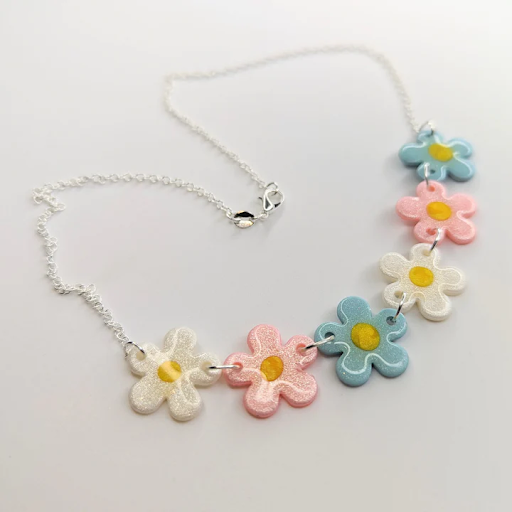 Flowers blossoming, warmer weather, and easter eggs, what's not to love about spring? 
Pre-drinks are always the best part of a night out, right. Spring is kind of like your pre-drinks for summer. You get to experience the warm sunshine without the sweat and enjoy the flowers blossoming in the trees. Not to mention all the chocolate you get to eat at Easter. 
This spring we've got a special treat for you. We are bringing you super cute accessories inspired by nature, animals, and fun! As usual, we've chosen and designed quirky prints, cutesy creatures, and some queer items too!
Take a look at our top picks to help you spring into the new season in style... 
Let's Make a Daisy Chain 
They like me not, they like me. We definitely like daisies this Spring, they're cute, sparkly, and totally gorgeous!
Remember the days when you would sit on the grass and make daisy chains while you listened to 2000s pop. A plain white tee and an oversized denim jacket create the ultimate spring outfit when paired with a daisy chain. Pink, blue, and white blend together in a minimal and colourful ensemble. 
Isn't it Electric? 
Looking for something with a little bit of a spark? These black lightning bolt earrings are truly electrifying. 
Just in case you are looking to spark up your outfit, we've got the perfect pair to make an electrifying statement. Who really needs an energy drink when all the energy you need comes in a fashionable pair. Bold and magnetic, there is no better way to make a statement. 
Straight Out of the 60s
Inspired by the decade of peace and love, these earrings are straight out of the 60s. 
These heart shaped floral earrings pack plenty of flower power and a serious amount of cuteness. When it comes to fashion, the 60s really did give us some incredible and totally unique looks but daisies top them all. It's time to add a little peace and love to your outfit. 
Hopping Into Spring 
It's not spring without getting a visit from the Easter bunny. 
Hop your way into spring in style with these gorgeous and totally cute bunny earrings. They may not be fluffy, but they are sparkly. Adorable, sparkly, and absolutely stunning, we love these cute bunnies. Their simplicity makes them the perfect touch to complete any outfit. 
Sunny Side Up 
Will it be scrambled, boiled, or sunny side up? 
These rings are for the ones who ate the eggs out of every bag of pick n' mix first. Whether you like your eggs scrambled, boiled, sunny side up, or even poached, these eggs are for everyone. Quirky and a little different, they make for a unique accessory. 
Check out the full collection here.
Packaged With Love 
Packaged with love and a little something extra. We package all of your orders with love and care. Decorated with tissue paper and a little gift (surprise it's a tealight), you will even receive a little postcard from us!